Universal Animal Pak by Universal Nutrition
July 31st, 2010
Posted in
Articles
,
Product Reviews
,
Supplement Reviews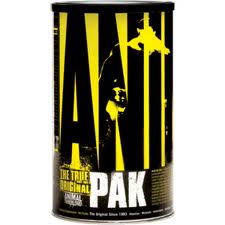 This Vitamin/Mineral Pak has been around for years and continues to be the best product that Universal Nutrition has put out.  It gives bodybuilders a variety of vitamins, minerals and essential amino acids that is needed for bodybuilders to grow.  If you are looking to move away from your normal daily multi vitamins and try a new one specifically geared towards bodybuilders, than this product is what you are looking for.
---
Pros
A great multi-vitamin loaded with the right nutrients needed for growth
Contains minerals as well that will help you reach your bodybuilding goals.
Contains L-Glutamine for optimal recovery.
Contains BCAA's (Branched Chain Amino Acids) to recover from an intense workout.
---
Cons
You have to consume several pills as they come in packs.
Can be expensive if you are on a budget.
---
Guide Review:
Overall I find this product to be very beneficial if you are serious about bodybuilding gains.  After taking Animal Pak for a month I noticed some strength gains and was able to workout harder as a result.  One pack per day is all that is needed.  The way I used it was on training days I would take one pack and on non-training days I would take my normal multi-vitamin.  This is a great tip if you are on a budget and want to use your money wisely.  The only downfall to this product is the number of pills you have to consume. However, the good part is that they come in little packets so you can store them in your pockets or wherever you please while on the go.

---