L-Glutamine: The Best Post Workout Recovery Supplement or a Scam?
July 31st, 2010
Posted in
Articles
,
Rest and Recovery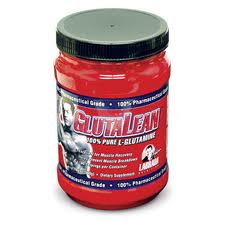 L-glutamine is the most abundant amino acid in the body and has been without a doubt one of my favorite muscle recovery supplements that has helped me deal with muscle soreness throughout the years.  In my opinion, this recovery supplement goes unnoticed in the muscle magazines and does not get the attention that it deserves.
I can remember going through my workouts and only using creatine before and after a workout as well as drinking a protein shake right after the workout and not using l-glutamine.  It definitely helped me get through my workouts but it was not until I used the muscle recovery supplement L-glutamine that I was able to feel rejuvenated and prevent the magnitude of muscles soreness immensely.
---
Some of the benefits of L-Glutamine are as follows:

Prevents the body from breaking down and turning catabolic
It is a cell-volumizer and can help regulate protein synthesis
Accelerates muscle recovery time after a workout
Helps the muscles to rebuild and repair which will give you a leaner physique
Prevents cortisol levels from elevating (everybody's worst nightmare when it comes to achieving your weight loss and fitness goals)
---
How to Use it
It is best to take L-glutamine right after a workout as this is when the body will need to rebuild and repair the muscles that were trained.  It is best to consume around 3 to 5 grams as there is not a lot of room for the body to store L-glutamine.  Note: For those who are weight training and following the fat extinction program, you can also take 5 grams in the morning and 5 grams before bedtime for the maximum muscle recovery results.
---
My Recommendations for This Muscle Recovery Supplement
The brands that I used are Pro Lab, Iron-Tek and Labrada Nutrition.  Due to the fact that these muscle recovery supplements are very similar as far as ingredients go, you can use either one of these three and see the results you are looking for!
---